ACCESS RIGHTS IN TERADATA
Hi  Readers,
This article contains types of access(Privileges)  in Teradata.
What is a privilege ?
A database privilege is a permission to access or to manipulate a database object or data.
Privileges are sometimes called access rights, permissions, or authorizations.
Privileges are used by administrators to control access to database objects and data, and to control the types of      actions and activities available to users.
The privileges are used to control which users can :
Access, create, modify, or delete specific database objects and data
Execute specific macros, procedures, and UDFs
Monitor system-wide activity
Grant privileges to other users
Teradata Data Control Language (DCL) requests grant and revoke the privileges that enable users to perform these actions and activities.
To grant a privilege, the user must have the privilege on the object and the right to grant the privilege.
TYPES OF ACCESS RIGHTS
There are four types of access rights available in Teradata :
IMPLICIT
EXPLICIT
INHERITED
AUTOMATIC
Let us look at an example to understand these privileges better.
Example:
User_1 creates a database named database_1 and a user named User_2. User_2 creates a database called database_2.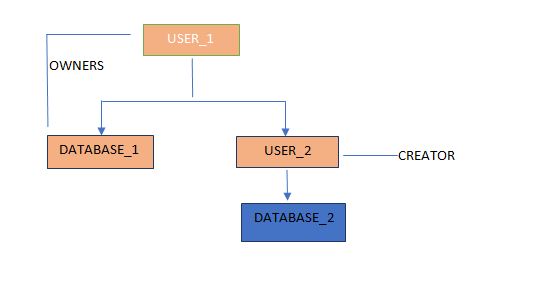 IMPLICIT PRIVILEGES :
They are given to object owners.
They don't require a row in DBC.AccessRights (but these rows are added by default).
The owner of an object can grant explicit privileges to other users, databases, and roles (WITH and WITHOUT GRANT option).
In the example seen above, User_1 and database_1 have implicit rights on DATABASE_2.
EXPLICIT PRIVILEGES :
They are managed with the GRANT and REVOKE
The GRANT command is used to assign explicit privileges to databases, users, tables, indexes, views, stored procedures, UDFs, macros, and roles.
Syntax :     
GRANT

<

privileges

>

ON

<

object

>

TO

<

user

>

[

WITH

GRANT

OPTION

]

;
To grant explicit privileges, the granting user needs the same privileges on this object and grant authority ("WITH GRANT OPTION")
AUTOMATIC PRIVILEGES :
These privileges are automatically granted by Teradata ("Creator Privilege"), when a user creates an object, such as users, databases, tables, views, etc.
If a user creates a new database or user, not only the creator will get automatic permissions on the new object, but also the newly created object will get some automatic privileges (delete, insert, update, select, etc.).
The privileges granted to the creator and owner on the new database are WITH GRANT OPTION.
The following privileges are automatically granted to a database when it is created:

CHECKPOINT
CREATE AUTHORIZATION
CREATE DATABASE
CREATE MACRO
CREATE TABLE
CREATE TRIGGER
CREATE USER
CREATE VIEW
DELETE
DROP AUTHORIZATION
DROP DATABASE
INSERT
DROP FUNCTION
DROP MACRO
DROP TABLE
DROP PROCEDURE
DROP TABLE
DROP TRIGGER
DROP USER
DROP VIEW
DUMP
EXECUTE
RESTORE
REVOKE
SELECT
STATISTICS
UPDATE
The creator receives all the following privileges WITH GRANT OPTION on the newly created table:

CREATE TRIGGER
DELETE
DROP TABLE
DROP TRIGGER
DUMP
INDEX
INSERT
REFERENCES
RESTORE
SELECT
STATISTICS
UPDATE
INHERITED PRIVILEGES :
These are inherited from the role.
These are the Privileges that a user acquires indirectly:
All users automatically have the privileges of PUBLIC, a role-like collection of default privileges. You can also grant or revoke privileges for PUBLIC.
A user inherits all the privileges granted to any roles of which the user is a member.
Directory users inherit the privileges of the database users and external roles to which they are mapped.
LEVELS OF PRIVILEGES
There are four levels of privileges offered by Teradata :
System-level privileges
Object-level privileges
a.Database
b.Table
c.Row or column
d.Other object types
Row-level privileges
Zone-level privileges
SYSTEM LEVEL PRIVILEGES
System-level privileges apply system-wide and cannot be defined on a database object. Generally, these privileges are used by administrators.
The system-level privileges are as follows:

CONSTRAINT ASSIGNMENT
CONSTRAINT DEFINITION
CREATE MAP
CREATE ROLE
CREATE PROFILE
CREATE ZONE
CTCONTROL
DROP MAP
DROP ROLE
DROP PROFILE
DROP ZONE
MONITOR
ABORTSESSION
MONRESOURCE
MONSESSION
SETRESRATE
SETSESSRATE
ZONE OVERRIDE
OBJECT-LEVEL PRIVILEGES
Teradata Database object-level privileges can be granted:

On database objects (databases, tables, columns, maps, and other objects).
To other users by the creator or owner of a database object.

After the privileges are granted on the objects, users can perform the specific actions on the objects permitted by the privileges.
ROW-LEVEL PRIVILEGES
Access to Teradata Database objects, for example, tables and views is primarily based on object-level user privileges. Object-level privileges provide basic access control, but are discretionary, that is, object owners automatically have the right to grant access on any owned object to any other user.
In addition to object-level privileges, you can use Teradata row-level security (RLS) to control user access for each table row, by SQL operation. RLS access rules are based on the comparison of the RLS access capabilities of each user and the RLS access requirements for each row.
ZONE-LEVEL PRIVILEGES
You cannot grant privileges on objects in a secure zone to users or roles in another zone. However, you can grant privileges to non-zone users or roles under certain conditions.
Are owners and creators the same ?
The answer is NO. Teradata differentiates creators and owners of database objects.
The creator is the user who executed the DDL statement to create an object. Thus, only one user can be the creator of an object.
The owners of a database object are all databases and users which are above the object in the database hierarchy.
When a database object is created, the database which holds the new object is called the immediate owner.
The example used above, User_2 is the CREATOR of the database database_2, and database_1 and User_1 are the owners of database_2.
How to check user privileges?
Data dictionary view contains information about users and the privileges they hold:
View                                        Information it Contains
AllRightsV                               The explicit and automatic privileges in effect for each user.
AllRoleRights                           The explicit privileges in effect for each role.
RoleMembersV                        The members (users) for each role.
Thank you for giving your valuable time to read the above information.
Follow us on 
Website :  www.ktexperts.com
Facebook Page : KTExperts Facebook
Linkedin Page : KT EXPERTS Linkedin
Note: Please test scripts in Non Prod before trying in Production.