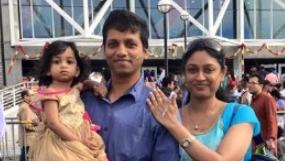 I am Vinod Kumar Siram  having around 17+ years of experience as Oracle DBA having exposure to RAC, Dataguard, RMAN, GoldenGate, DB Upgrades, Hadoop. Looking forward to sharpening my skill set and adapt to new things.
I have worked for various industries like Banking, financial, Telecom, Product based companies, retail, etc.
My Simple Beliefs:
Knowledge sharing is Knowledge Gaining.
Working Hard for Something We Don't Care about is called STRESS.
Working Hard for Something we LOVE is called PASSION.
Reach me on LinkedIn :
https://www.linkedin.com/in/vinodsiram/
Acknowledgments:
I would like to thank everyone who helped me throughout my career and journey.
Mr. Ramanakumar SV
Mr. Satyendra Kumar
Mr. Rishi Mahajan
Mr. Prakash krovvidi
Mr. Srinivas Ramineni
Mr. Srinivasa Panchagnula
Mr. Pramod Garre
Mr. Ramesh Veeramalla
Mr. Layadhar Duppati
Special thanks to:
I would like to extend my special appreciation to the developer and maintainer of this valuable website:
Reach Ajaykumar  on LinkedIn :
https://www.linkedin.com/in/ajay-kumar90/
Contact us: