Dear Readers,

In this article, we will see the Upgradation Of The Oracle Database From 12c To 19c.
Manual Command-Line Upgrade (DB UPGRADE)

In this article, I have followed the steps to directly upgrade the non-container database from 12c to 19c because a direct upgrade to 19c is possible from database versions like 11.2.0.4/12.1.0.2/12.2.0.1/18c.
OUR TESTING ENVIRONMENT
For this upgrade, I have prepared a virtual machine using (oracle virtual box) and Installed RedHat Enterprise Linux 7.9 on which Oracle 12cR2 non-container database is running.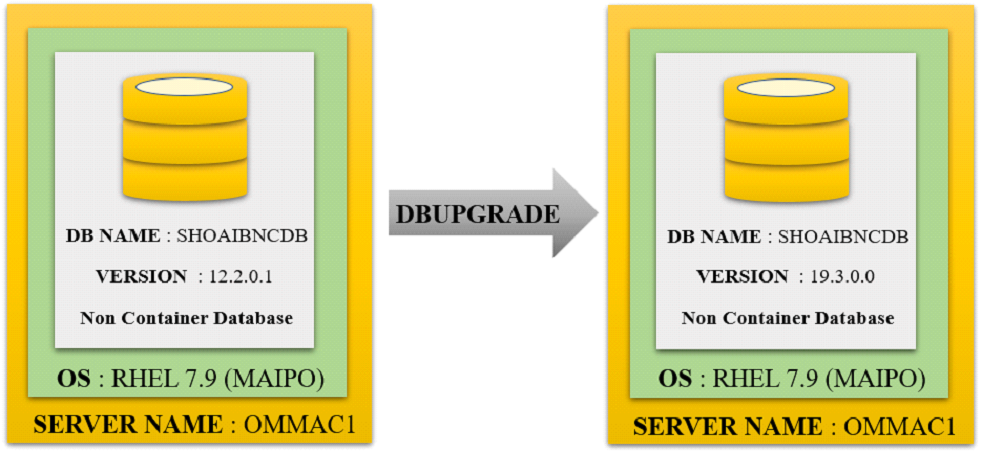 Oracle database upgrade steps can be summarized as follows
PRE-REQUISITES
⦁ Check Database Upgrade Certification Matrix
⦁ Check OS Certification Matrix
⦁ Oracle 19c Binaries Installation for Upgrade
⦁ Oracle 12c Database RMAN Backup
⦁ Check For Invalid Objects
⦁ Create a Directory to keep Upgrade Logs
RUN PREUPGRADE.JAR UTILITY
⦁ Review Pre-Upgrade Log files
PRE-UPGRADE STEPS
⦁ Verify Table space Size
⦁ Gather Dictionary Stats
⦁ Purge Recycle Bin
⦁ Run Pre upgrade Fix up SQL Script
⦁ Verify Archive Destination Size
⦁ Stop Database Listener
⦁ Create Flashback Guaranteed Restore Point
⦁ Shutdown 12cR2 Database
⦁ Copy [Sp file/Password] Files From 12c To 19c Oracle Home
⦁ Edit Ora tab – Make 19c Oracle Home Active
UPGRADE DATABASE STEPS
⦁ Start Database in Upgrade Mode From 19c Home
⦁ Run Db upgrade From 19c Home
⦁ After Upgrade, Simply Start the Database From 19c Home
⦁ After Upgrade, Check the Registry
POST UPGRADE STEPS
⦁ Post Upgrade Run Utlrp. Sql
⦁ Run Post Upgrade Fix up SQL Script
⦁ Upgrade Timezone
⦁ Run Utlusts. Sql
⦁ Run Catuppst. Sql
⦁ Rerun Post Upgrade Fix up SQL Script
⦁ Check Invalid Counts
⦁ Drop Restore Point
⦁ Set 19c Compatible Parameter
⦁ Verify Db registry – Final Check
      👇👇👇👇 Please check the below link for the full document 👇👇👇👇
🔗https://www.ktexperts.com/wp-content/uploads/2022/05/12c_NonCDB_to_19c_NonCDB_Manual_Upgrade-Article.pdf
Author    : Shoaib Ansari
Thank you for giving your valuable time to read the above information. Please click here to subscribe for further updates
KTExperts is always active on social media platforms.
Facebook  : https://www.facebook.com/ktexperts/
LinkedIn    : https://www.linkedin.com/company/ktexperts/
Twitter       : https://twitter.com/ktexpertsadmin
YouTube   :  https://www.youtube.com/c/ktexperts
Instagram  : https://www.instagram.com/knowledgesharingplatform
Note: Please test scripts in Non Prod before trying in Production.