How to Upload Files into Azure Storage Account

Step 1: After deploying your storage account in Azure then go to your resource page and click on the storage account that you created from there go to overview of the storage account.
Step 2: when you want to upload a single file click on upload which is shown below.

Step 3: After clicking on upload, you get a prompt right side of your screen that is shown below.

Step 4: you have to create a new container to store your files in it. That is similar to folders in your windows system.If you have already created a container then choose that existing container.
Step 5: while creating the container it will ask for the public access levels and choose private if you want to restrict the files to the internet.

Step 6: click on drop down at Advance it will show some additional information as shown below.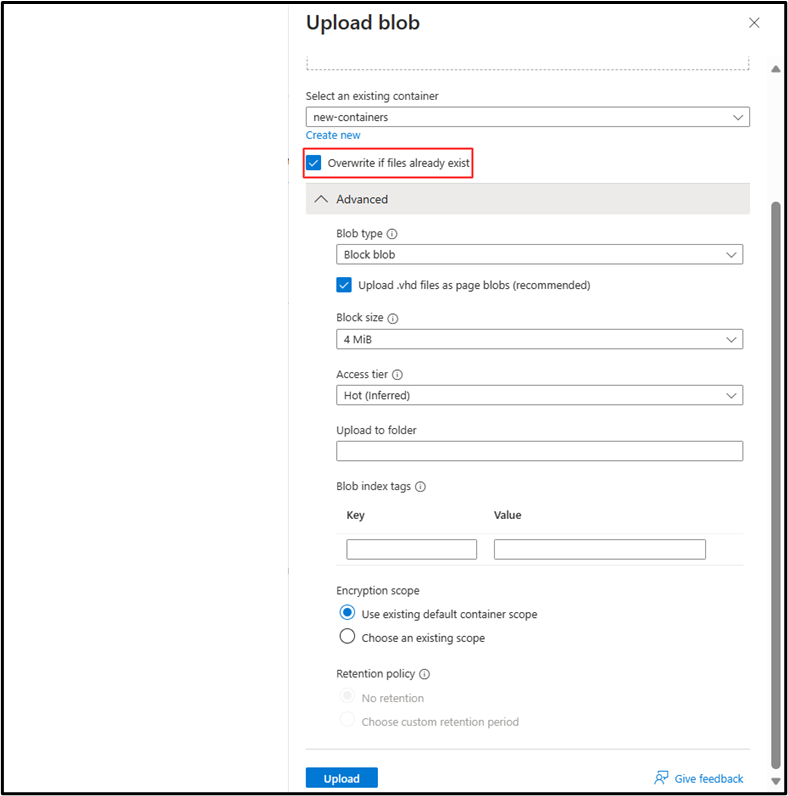 Step 7: Now choose the type of the blob that is based on your requirement by default it shows block blob and choose the maximum size of that blob.
Step 8: Choose Access tier as hot if you want low latency while accessing the files otherwise choose according to your usage of that blob and then click on upload you will see green circle check box below when it is successfully uploaded as shown below.

Step 9: Close the tab which is opened on the right side and go to the overview. below that you see containers click on that which is shown below.

Step 10: Now you will redirect to the page shown below where you can view the container that you created.
You can create a new container just by clicking on +Container.

Step 11: Click on your container name to view the files that you uploaded recently, then you can see all files information that you upload.
Step 12:
While you are creating the container, if you give the anonymous access then you can view that file on the internet with the provided URL which is highlighted below.

Thank you for giving your valuable time to read the above information. Please click here to subscribe for further updates
KTExperts is always active on social media platforms.
Note: Please test scripts in Non Prod before trying in Production.